Thankyou Payroll – Business As UNusual
The whole team has been working from home. All of our systems are running as expected.
We are experiencing a high volume of calls and emails – so there may be some delays helping you – please bear with us.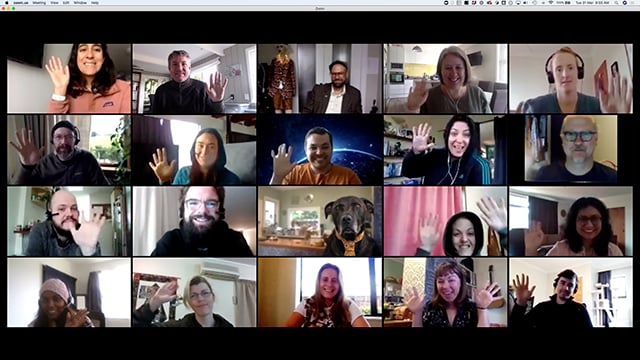 The Thankyou Payroll Team at our daily Stand Up Meeting on Day 6.

Useful resources we've compiled
As we work through the scenarios at Thankyou Payroll we've compiled some resources that we found useful:
In addition to the information from the Treasury here are a couple of useful PDF Factsheets
Frequently Asked Questions
Our team has compiled a list of Frequently Asked Questions to help you:


What is the Wage Subsidy?
The Wage Subsidy is to support businesses that have been significantly impacted and need help to pay their employees.
To find out if your business is eligible for the Wage Subsidy visit:
https://workandincome.govt.nz/products/a-z-benefits/covid-19-support.html
Is the Wages subsidy gross or net of tax?
Neither, the subsidy is paid to employers, by MSD, as a special payment in order to help employers to retain staff, and pay wages and salaries during this difficult time.
You will pay wages and salaries as usual (aiming for no less than 80% of their usual pay). Those payments are subject to all normal deductions, including tax e.g. PAYE, KiwiSaver, Student Loans.

How do I pay the Wage Subsidy to my employees?
The subsidy will be given as a lump sum payment into employers bank accounts, and the employer must use this to retain their staff and pay wages during this difficult time.
We encourage you to keep paying your employees on your usual pay cycle as much as possible.
In many cases, the subsidy won't cover full wages. Under the scheme, you must commit to pay at least 80% of the employee's income. However, 'best endeavours' mean the employer and employee can negotiate an alternative approach.
If you're able to, you can cover the shortfall in wages to 100%.
We've made a helpful step-by-step guide if you wanted to set this up as a special pay type in Thankyou Payroll.
Can the Wage Subsidy be topped up with another type of leave?
In other words – can I top up the amount with Annual Leave, Special Leave, Long Service Leave, Alternative Leave, etc?
This would need to be discussed – and agreed to – by both the employer and employee.
We recommend you check with Employment NZ for further advice.
Can I defer my PAYE payment to assist with cashflow?
No, you are still required to file and make payments for PAYE on time.
As a Thankyou Payroll customer, we've got that sorted for you and will ensure you remain compliant with the IRD.
Here's some info on tax relief:
https://www.ird.govt.nz/covid-19-novel-coronavirus/tax-relief/tax-relief-for-businesses
Can I stop paying KiwiSaver contributions?
No, as an Employer you are required to continue making KiwiSaver contributions.
However, an employee can choose to take a break (a "savings suspension") for 3 months, and up to a year.
Here's more information on the KiwiSaver Website:
https://www.kiwisaver.govt.nz/already/change-contrib/savings-suspension/ks-holiday.html
What is the Essential Workers Leave Support?
This Leave Support is a subsidy available to essential businesses where an employee cannot come to work if Ministry of Health guidelines recommend they stay at home, and they cannot work from home.
Employer's can apply for it if they have an employee in this situation. However, you need to reapply every 4 weeks and you cannot receive both the Wage Subsidy and the Essential Workers Leave Support for the same employee at the same time.
For more info on the criteria, and to apply, visit Work and Income.
What is the insolvency relief for businesses?
The Government will be introducing legislation to make temporary changes to the Companies Act to help businesses facing insolvency due to COVID-19 to remain viable, with the aim of keeping New Zealanders in jobs.
This includes giving directors of companies a 'safe harbour' from insolvency; placing existing debts into hibernation; allowing the use of electronic signatures; and extending deadlines and temporary relief on specific compliance requirement.
You can read further details and the specifics from the Companies Office.

Need help?
Our team's learning as much as we can so we can support you.
If you need help please contact us on 0800 895 146 or email help@thankyoupayroll.co.nz
Kia noho ora ai, Ngā mihi mahana
From the team at Thankyou Payroll


---
Disclaimer
This information on this page has been collected by the team at Thankyou Payroll to help Kiwi businesses. The information on this page, and the sites we link to, are subject to change.
Despite our best efforts we cannot guarantee this information, nor the pages we link to, are correct.
Please check with your accountant and legal experts for further advice.